Additional Products
testimonials
The support we've had from SB Systems has been fantastic. We've used Job Tracker for a couple of years now but just recently started having problems. Turned out to be a failing hard drive that out proper support people missed. SB Systems stuck with it and tracked the problem down. Many many thanks.
Ben. Interior Maintnenace
I have had the pleasure of using Job Tracker Professional for some time. I have never had such a great working relationship working with a supplier.
Daniel, Diamonds In Style
SB Systems have been very helpful and their after sales service has been excellent
Job Tracker Direct
Job Tracker Direct enables you to provide your job providers with a fast and accurate means of supplying you with jobs electronically.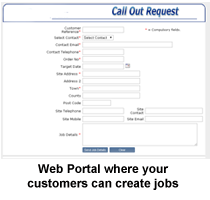 If you're still receiving jobs via Fax, Telephone or even email then Job Tracker Direct is something you should be considering.

Job Tracker Direct enables you to receive jobs directly from your job provider, quickly and accurately without you having to re-key anything. Your Job Provider is presented with a website displaying your logo, and it's designed to capture only the data you really need. They simply fill in the form on-line, press a button and the job automatically appears in Job Tracker Professional. A copy of the job is then automatically emailed to the provider as confirmation of submission, as well as two further copies going off to email addresses of your choice. Job Tracker Direct comes with a back end control panel enabling you to manage users and view jobs that have been electronically submitted.
Key benefits of Job Tracker Direct is that your service is constantly available to your job providers, even outside of your core office hours, they can simply go online and add details of the job at a time that suits them. Remove the need to accept work request via the phone, email or fax, thus saving you time or simply add the service as an additional benefit to your customers.
For more details on costs click here
or
Contact us
to discuss your options.