Additional Products
testimonials
We were looking for a system that was flexible so it could bend to our companies requirements. Completely off the shelf Job Tracker and with Sams help fitted out requirements perfectly.
Jason Phils, MD Drainage Force
Great to work with. Organised and helped us through every step of getting up and running. The days training was well worth it.
Simon Watts, J C Construction
Love the fact we can create our own paperwork and have it all fill in for us. Highly recommend Job Tracker Professional.
Paul Harden. Owner Harden Heating & Plumbing
Job Tracker Direct
Job Tracker Direct enables you to provide your job providers with a fast and accurate means of supplying you with jobs electronically.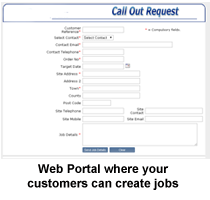 If you're still receiving jobs via Fax, Telephone or even email then Job Tracker Direct is something you should be considering.

Job Tracker Direct enables you to receive jobs directly from your job provider, quickly and accurately without you having to re-key anything. Your Job Provider is presented with a website displaying your logo, and it's designed to capture only the data you really need. They simply fill in the form on-line, press a button and the job automatically appears in Job Tracker Professional. A copy of the job is then automatically emailed to the provider as confirmation of submission, as well as two further copies going off to email addresses of your choice. Job Tracker Direct comes with a back end control panel enabling you to manage users and view jobs that have been electronically submitted.
Key benefits of Job Tracker Direct is that your service is constantly available to your job providers, even outside of your core office hours, they can simply go online and add details of the job at a time that suits them. Remove the need to accept work request via the phone, email or fax, thus saving you time or simply add the service as an additional benefit to your customers.
For more details on costs click here
or
Contact us
to discuss your options.