testimonials
Being a start up I was really busy with the daily stuff and didn't have much time to spend getting to grips with a computer system. I did look at a few other packages but they all seemed really hard to use. Sam spent about an hour with me and we had it set up and ready to use. I know its an easy thing to say but it really has helped me grow.
Brian Thompson, Newscatle
Job Tracker Pro has become an essential tool to the efficient running of our company. The Batch invoicing facility along with the reporting saves us so much time and money. S B Systems has proved a great business partner for us and going with Job Tracker Professional was definitely the right decision. Happy to recommend Job Tracker Pro and S B Systems
We were looking for a system that was flexible so it could bend to our companies requirements. Completely off the shelf Job Tracker and with Sams help fitted out requirements perfectly.
Jason Phils, MD Drainage Force
Latest Updates - Version 6.9.86
26/05/17 - V6.9.86 Available for immediate download to all our lease and contracted support customers.
Exclude specific customers from the 'picking contacts' screen within the jobs and quotes screens.
Now within Job Tracker you have the ability to make a contact, customer or client, unavailable for selection in relation to jobs or quotes. Within the contacts screen there is now a tick box ' Ignore Contact'. Once this box is ticked you will not be able to add the customer or client to a job or quote using the 'pick' button within the jobs or quotes screens. The customer will not appear on the 'picking contact search' screen.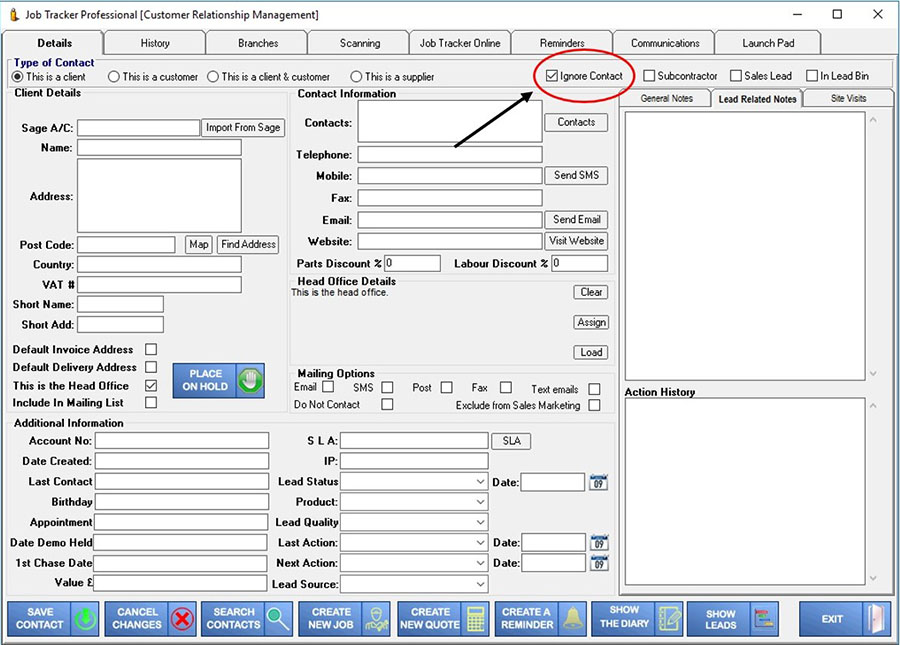 The tick can be removed from the 'Ignore Contact' field within the contacts screen should you wish them to become available again.
This upgrade is available in the usual way or call us for help.