testimonials
Sam listened to me all the way and showed me exactly how Job Tracker Pro would enable me to move from my excel based business to a near fully automated system. Just wish I'd done it years ago.
Craig Walsh, C4 Maintenance (UK)
The support we've had from SB Systems has been fantastic. We've used Job Tracker for a couple of years now but just recently started having problems. Turned out to be a failing hard drive that out proper support people missed. SB Systems stuck with it and tracked the problem down. Many many thanks.
Ben. Interior Maintnenace
I have had the pleasure of using Job Tracker Professional for some time. I have never had such a great working relationship working with a supplier.
Daniel, Diamonds In Style
Latest Updates - Version 6.9.86
26/05/17 - V6.9.86 Available for immediate download to all our lease and contracted support customers.
Exclude specific customers from the 'picking contacts' screen within the jobs and quotes screens.
Now within Job Tracker you have the ability to make a contact, customer or client, unavailable for selection in relation to jobs or quotes. Within the contacts screen there is now a tick box ' Ignore Contact'. Once this box is ticked you will not be able to add the customer or client to a job or quote using the 'pick' button within the jobs or quotes screens. The customer will not appear on the 'picking contact search' screen.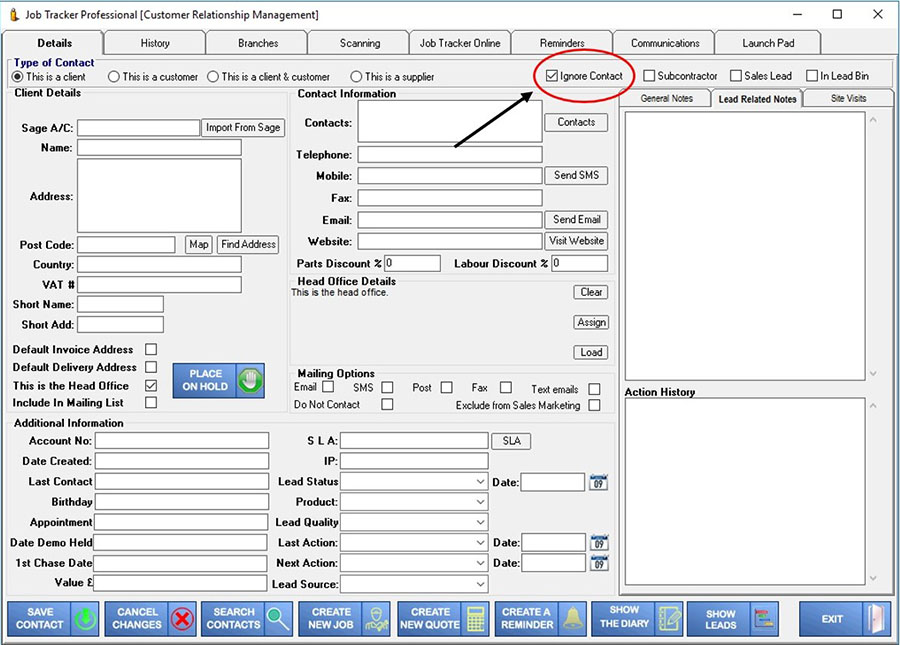 The tick can be removed from the 'Ignore Contact' field within the contacts screen should you wish them to become available again.
This upgrade is available in the usual way or call us for help.