Additional Products
testimonials
The document management features makes this an amazing product. It's perfect for us
John, Property Management, Glasgow
Job Tracker has exceeded our greatest expectations, once Sam helped us to make the decision to really use it we've never looked back.
Steve Eld contracting, Baltimore
I know we're only using a fraction of the software but when customers call we can help them right away. More than happy to recommend Job Tracker Professional
Nick, Electrical Contractors, London
Job Tracker Online
Enhance your customer service and allow your customers to view online progress reports on all appropriate live jobs.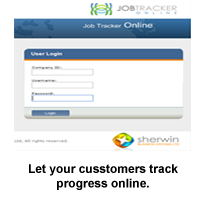 Job Tracker Online allows you to enhance the level of service you provide to your customers and job providers by furnishing them with the ability to access online, real time progress reports. Providing this service also helps you reduce the amount of time spent handling status enquiries and providing verbal or written updates.

Job Tracker Online completely integrates with Job Tracker Professional giving you the ability to easily update the progress of Jobs and in turn providing your customers with a great customer service experience. Your customers are given a username and password, they log onto our Job Tracker Online website and can instantly view all appropriate live jobs.
For more details on costs click here
or
Contact us
to discuss your options.