Additional Products
testimonials
Sam listened to me all the way and showed me exactly how Job Tracker Pro would enable me to move from my excel based business to a near fully automated system. Just wish I'd done it years ago.
Craig Walsh, C4 Maintenance (UK)
The support we've had from SB Systems has been fantastic. We've used Job Tracker for a couple of years now but just recently started having problems. Turned out to be a failing hard drive that out proper support people missed. SB Systems stuck with it and tracked the problem down. Many many thanks.
Ben. Interior Maintnenace
I have had the pleasure of using Job Tracker Professional for some time. I have never had such a great working relationship working with a supplier.
Daniel, Diamonds In Style
Job Tracker Online
Enhance your customer service and allow your customers to view online progress reports on all appropriate live jobs.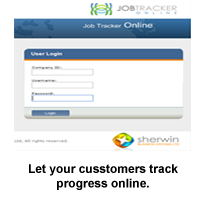 Job Tracker Online allows you to enhance the level of service you provide to your customers and job providers by furnishing them with the ability to access online, real time progress reports. Providing this service also helps you reduce the amount of time spent handling status enquiries and providing verbal or written updates.

Job Tracker Online completely integrates with Job Tracker Professional giving you the ability to easily update the progress of Jobs and in turn providing your customers with a great customer service experience. Your customers are given a username and password, they log onto our Job Tracker Online website and can instantly view all appropriate live jobs.
For more details on costs click here
or
Contact us
to discuss your options.