Additional Products
testimonials
To be able to work so closely with the developer and get almost instant fixes & / or amendments has been outstanding. Great company to work with
Daniel, Diamonds In Style
Being a start up I was really busy with the daily stuff and didn't have much time to spend getting to grips with a computer system. I did look at a few other packages but they all seemed really hard to use. Sam spent about an hour with me and we had it set up and ready to use. I know its an easy thing to say but it really has helped me grow.
Brian Thompson, Newscatle
Job Tracker Pro has become an essential tool to the efficient running of our company. The Batch invoicing facility along with the reporting saves us so much time and money. S B Systems has proved a great business partner for us and going with Job Tracker Professional was definitely the right decision. Happy to recommend Job Tracker Pro and S B Systems
Job Tracker Online
Enhance your customer service and allow your customers to view online progress reports on all appropriate live jobs.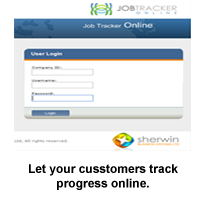 Job Tracker Online allows you to enhance the level of service you provide to your customers and job providers by furnishing them with the ability to access online, real time progress reports. Providing this service also helps you reduce the amount of time spent handling status enquiries and providing verbal or written updates.

Job Tracker Online completely integrates with Job Tracker Professional giving you the ability to easily update the progress of Jobs and in turn providing your customers with a great customer service experience. Your customers are given a username and password, they log onto our Job Tracker Online website and can instantly view all appropriate live jobs.
For more details on costs click here
or
Contact us
to discuss your options.