testimonials
The support we've had from SB Systems has been fantastic. We've used Job Tracker for a couple of years now but just recently started having problems. Turned out to be a failing hard drive that out proper support people missed. SB Systems stuck with it and tracked the problem down. Many many thanks.
Ben. Interior Maintnenace
I have had the pleasure of using Job Tracker Professional for some time. I have never had such a great working relationship working with a supplier.
Daniel, Diamonds In Style
SB Systems have been very helpful and their after sales service has been excellent
Customisable data capture screens that you can tailor
to suit your needs
That's just one of the reasons so many choose Job Tracker Professional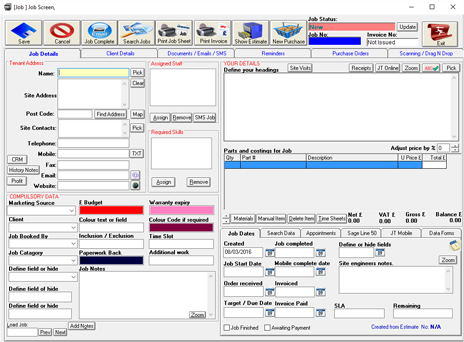 The Jobs and Quotes Screens are customisable, enabling you (or designated people within your business) to build your data capture screens to collect the data important to you.
You can very easily add colours to the fields, change the titles and labels, move the boxes, hide fields, change their size, add pick lists – which again can be colour coded, determine the format and even make them compulsory if needed. At first sight the screen may look busy but you can truly hide unwanted fields and make it sleek and minimal or utilise all the fields to allow you to capture more of the information you need now or may need in the future. Remember, all data captured can then easily be imported into your template documents meaning you only need to key the data once.