testimonials
We were looking for a system that was flexible so it could bend to our companies requirements. Completely off the shelf Job Tracker and with Sams help fitted out requirements perfectly.
Jason Phils, MD Drainage Force
Great to work with. Organised and helped us through every step of getting up and running. The days training was well worth it.
Simon Watts, J C Construction
Love the fact we can create our own paperwork and have it all fill in for us. Highly recommend Job Tracker Professional.
Paul Harden. Owner Harden Heating & Plumbing
Customisable data capture screens that you can tailor
to suit your needs
That's just one of the reasons so many choose Job Tracker Professional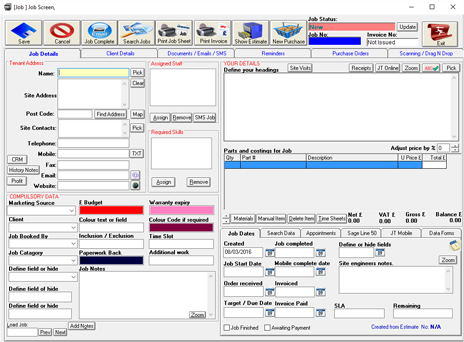 The Jobs and Quotes Screens are customisable, enabling you (or designated people within your business) to build your data capture screens to collect the data important to you.
You can very easily add colours to the fields, change the titles and labels, move the boxes, hide fields, change their size, add pick lists – which again can be colour coded, determine the format and even make them compulsory if needed. At first sight the screen may look busy but you can truly hide unwanted fields and make it sleek and minimal or utilise all the fields to allow you to capture more of the information you need now or may need in the future. Remember, all data captured can then easily be imported into your template documents meaning you only need to key the data once.