Additional Products
testimonials
SB Systems have been very helpful and their after sales service has been excellent.
"The document management features makes this an amazing product. It's perfect for us"
John, Property Management, Glasgow
"Job Tracker has exceeded our greatest expectations, once Sam helped us to make the decision to really use it we've never looked back."
Steve Eld contracting, Baltimore
Sage Integration
Our Sage Integration Module Reduces errors and time and SENDS YOUR FINANCIAL INFORMATION directly TO SAGE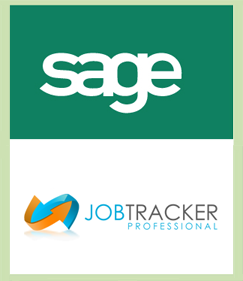 There are several ways the Sage integration will benefit you. Foremost by reducing typing errors and enabling faster invoicing. As Job Tracker Professional is great at creating documents most of our customers use Job Tracker to actually generate the physical invoice and email it directly. Then at the press of a button the financial information can be send directly into your Sage package. No errors no re-typing.
You can of course run the integration any way you wish. If you would rather let Sage generate the paperwork we can accommodate that as well. You also have the choice of using Job Tracker Pro for allocating invoice numbers or Sage, again it's your choice. Either way the integration is really a great time and error saver. There are many customisable options with our Sage integration. Perhaps you only want the overall invoice values sent to Sage, not the individual line costs. No problem. Perhaps you want the site address included as part of the invoice details. We can do that too.
Over the years we've had many conversations with many customers regards what information to send to Sage.
Today this means we've got an integration module that pretty much covers all the bases.
If you would like to discuss Sage integration, please give us a call on 01255 830113
If you integrate with Sage 50 always check with us before upgrading to ensure we support the new version.
Currently supporting:-"
Invoice Module: Version 27"
Audit / Transaction Module: Version 27"