testimonials
Job Tracker Pro is an important tool in our business. The system is easy to navigate a round. I would call it a one stop shop, as you can track everything from purchases, job status, invoicing, emails and stock control. We have commissioned bespoke modifications over the 6 years we have been using the system, from pda's, mapping and our white board. I would highly recommend this system and the support staff at SB Systems
Claire, UK Dry Risers Maintenance Ltd
We use SB Systems excellent bespoke software, . The product is easy to use and can be adapted. Sam offers superb remote assistance with any technical issues that might arise and is continuously making improvements to the software. We have used this product for nearly 10 years now. I highly recommend Sam Sherwin and S B Systems
Calvin Oram, Oak Tree Mortgages
S B Systems was extremely helpful both before we started using job tracker and ongoing.
Customisable data capture screens that you can tailor
to suit your needs
That's just one of the reasons so many choose Job Tracker Professional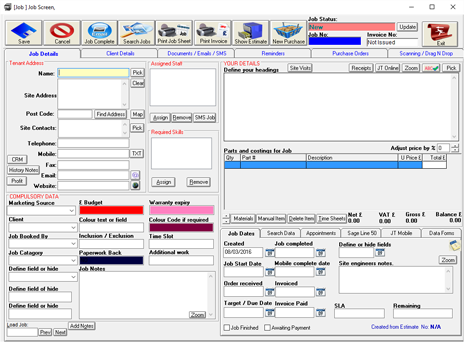 The Jobs and Quotes Screens are customisable, enabling you (or designated people within your business) to build your data capture screens to collect the data important to you.
You can very easily add colours to the fields, change the titles and labels, move the boxes, hide fields, change their size, add pick lists – which again can be colour coded, determine the format and even make them compulsory if needed. At first sight the screen may look busy but you can truly hide unwanted fields and make it sleek and minimal or utilise all the fields to allow you to capture more of the information you need now or may need in the future. Remember, all data captured can then easily be imported into your template documents meaning you only need to key the data once.