testimonials
Love the fact we can create our own paperwork and have it all fill in for us. Highly recommend Job Tracker Professional.
Paul Harden. Owner Harden Heating & Plumbing
Sam listened to me all the way and showed me exactly how Job Tracker Pro would enable me to move from my excel based business to a near fully automated system. Just wish I'd done it years ago.
Craig Walsh, C4 Maintenance (UK)
The support we've had from SB Systems has been fantastic. We've used Job Tracker for a couple of years now but just recently started having problems. Turned out to be a failing hard drive that out proper support people missed. SB Systems stuck with it and tracked the problem down. Many many thanks.
Ben. Interior Maintnenace
Latest Updates - Version 6.3.0
Customisable batch invoicing function &
introduction of multiple purchase order templates facility
V6.3.0 Available for immediate download to all our lease and contracted support customers.
Introducing enhanced flexibility within the batch invoicing function to allow more customisation. Simply add the merge codes of the fields that you wish to include.
Access the control panel.
Select the programme features tab.
Click batch invoicing.
At the bottom of the new screen you will notice a field titled Merge Codes. Type the relevant codes for the fields that you wish to add, separate them only with a space.
Click save, then click ok.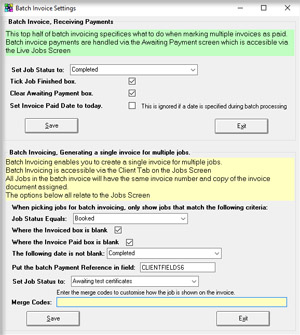 This upgrade also introduces the ability to create multiple customised templates for purchase orders, allowing you to create shortcuts and tailor your purchase orders to meet the needs and preferences of your various suppliers.

Create and save your templates in the usual manner.
From the home screen select Purchases.
Select the Documents/Emails tab.
Press control and left mouse click in the shortcut box you wish to use then assign the template in the usual way.
Click Save, the shortcut should then be ready for use.