testimonials
Being a start up I was really busy with the daily stuff and didn't have much time to spend getting to grips with a computer system. I did look at a few other packages but they all seemed really hard to use. Sam spent about an hour with me and we had it set up and ready to use. I know its an easy thing to say but it really has helped me grow.
Brian Thompson, Newscatle
Job Tracker Pro has become an essential tool to the efficient running of our company. The Batch invoicing facility along with the reporting saves us so much time and money. S B Systems has proved a great business partner for us and going with Job Tracker Professional was definitely the right decision. Happy to recommend Job Tracker Pro and S B Systems
We were looking for a system that was flexible so it could bend to our companies requirements. Completely off the shelf Job Tracker and with Sams help fitted out requirements perfectly.
Jason Phils, MD Drainage Force
Purchase Orders, Creating and Costings
That's just one of the reasons so many choose Job Tracker Professional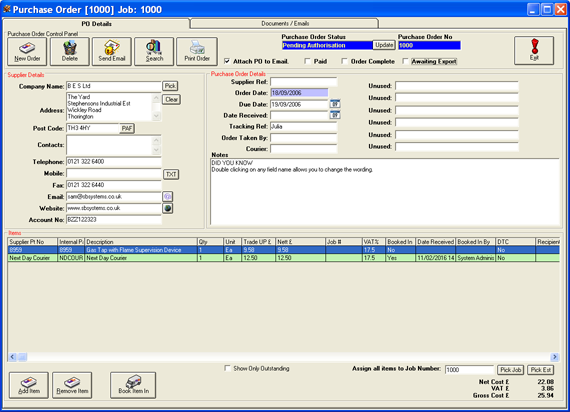 The live quotations screen gives you all you need to keep on top of your ongoing quotations. The colour coded screen keeps you on top of when you need to follow up, chase up and progress it to the next level. All documentation and communication with your prospect is all kept within the uniquely numbered quotation giving you instant and easy access.

To speed up the whole "following up" process we've included a document and email template feature. This allows you to create thousands of pre-formatted letters that can be sent out at the press of a button.
The daily "Things To Do" list also helps keep you on top of promises you've made, ensuring you're always on time and professional in dealing with your quotations.