testimonials
Love the fact we can create our own paperwork and have it all fill in for us. Highly recommend Job Tracker Professional.
Paul Harden. Owner Harden Heating & Plumbing
Sam listened to me all the way and showed me exactly how Job Tracker Pro would enable me to move from my excel based business to a near fully automated system. Just wish I'd done it years ago.
Craig Walsh, C4 Maintenance (UK)
The support we've had from SB Systems has been fantastic. We've used Job Tracker for a couple of years now but just recently started having problems. Turned out to be a failing hard drive that out proper support people missed. SB Systems stuck with it and tracked the problem down. Many many thanks.
Ben. Interior Maintnenace
Turning Quotations Into Sales
That's just one of the reasons so many choose Job Tracker Professional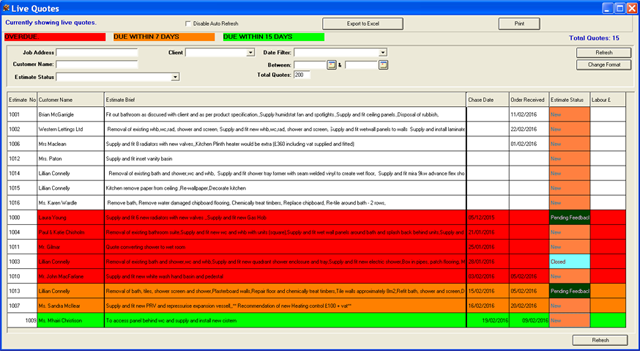 The live quotations screen gives you all you need to keep on top of your ongoing quotations. The colour coded screen keeps you on top of when you need to follow up, chase up and progress it to the next level. All documentation and communication with your prospect is all kept within the uniquely numbered quotation giving you instant and easy access.

To speed up the whole "following up" process we've included a document and email template feature. This allows you to create thousands of pre-formatted letters that can be sent out at the press of a button.
The daily "Things To Do" list also helps keep you on top of promises you've made, ensuring you're always on time and professional in dealing with your quotations.