More Benefits
testimonials
"To be able to work so closely with the developer and get almost instant fixes & / or amendments has been outstanding. Great company to work with"
Daniel, Diamonds In Style
" Sam and the team at Sherwin Business systems have work closely with Hebs Group to ensure they fully understand our requirements and how dynamic our business can be, the flexibility of Job Tracker Pro and Job Tracker Mobile has helped us define our work flow process, hone our efficiency and grow our service offering. Over the last few sessions with Sam and his team we have been able to collaborate and produce and extremely powerful piece of job management software with a seamless and to end process, this allows us to handle more work flow with a higher level of accuracy and reporting, without increasing our overhead thus creating organic growth for the business"
Mike Berry, Hebs Group Ltd
Job Tracker Pro is an important tool in our business. The system is easy to navigate a round. I would call it a one stop shop, as you can track everything from purchases, job status, invoicing, emails and stock control. We have commissioned bespoke modifications over the 6 years we have been using the system, from pda's, mapping and our white board. I would highly recommend this system and the support staff at SB Systems
Claire, UK Dry Risers Maintenance Ltd
JOB TRACKER PROFESSIONAL– A PROBLEM SOLVER!
Property maintenance jobs cause lots of paperwork; there are lots of people involved, multiple addresses, and complicated pricing schedules.
FINDING THE RIGHT JOB QUICKLY
Job Tracker Professional keeps documents, photos, quotes, addresses, engineers details and costs; in fact just about every piece of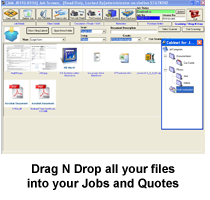 information relating to a Job is kept in one place. This means you can easily and quickly get this information back.
The very comprehensive built in search engine enables you to find a job by practically any information you wish. So when your customer calls you can easily get to the right job using friendly information like their name or address. Or if you prefer you can use job numbers, customer reference numbers, invoice numbers. The list goes on and on.
WHO'S WORKING ON WHAT AND WHEN?
Multiple engineers going to the same site on different days with multiple visits? It doesn't take long before it becomes a headache just trying to figure out who needs to be where? Whether you prefer looking at a diary, a whiteboard, or a colour coded list of live jobs, Job tracker Professional provides you with three visual tools showing you where your engineers are right now, what jobs are being worked on and any free time slots that are available.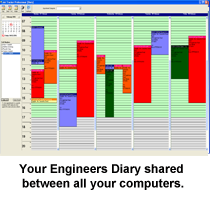 HOW MUCH PROFIT DID WE MAKE ON THAT JOB?
You've worked hard on the quotation, the job's complete, all the invoices are in and now you're trying to figure out how much you've made. Job Tracker Professional enables you to record your purchase costs, staff costs, on-site costs, just about every cost you need to consider, and at the press of a button you can get a summary of your profit for your job.

If you record this information and monitor it as your job progresses, it's a great way to instantly be alerted if you're going over budget.

If that's not enough, you can run a full profit and loss report for all your jobs over any given period of time. The report is colour coded with green, amber and red making it easy to see profitable jobs and not so profitable ones.

Job Tracker Professional is the solution that fits your ever changing and growing business needs.