More Benefits
testimonials
We use SB Systems excellent bespoke software, . The product is easy to use and can be adapted. Sam offers superb remote assistance with any technical issues that might arise and is continuously making improvements to the software. We have used this product for nearly 10 years now. I highly recommend Sam Sherwin and S B Systems
Calvin Oram, Oak Tree Mortgages
S B Systems was extremely helpful both before we started using job tracker and ongoing.
"I have had the pleasure of using Job Tracker Professional for some time. I have never had such a great working relationship working with a supplier."
Daniel, Diamonds In Style
JOB TRACKER PROFESSIONAL– A PROBLEM SOLVER!
Property maintenance jobs cause lots of paperwork; there are lots of people involved, multiple addresses, and complicated pricing schedules.
FINDING THE RIGHT JOB QUICKLY
Job Tracker Professional keeps documents, photos, quotes, addresses, engineers details and costs; in fact just about every piece of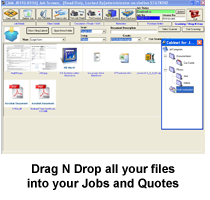 information relating to a Job is kept in one place. This means you can easily and quickly get this information back.
The very comprehensive built in search engine enables you to find a job by practically any information you wish. So when your customer calls you can easily get to the right job using friendly information like their name or address. Or if you prefer you can use job numbers, customer reference numbers, invoice numbers. The list goes on and on.
WHO'S WORKING ON WHAT AND WHEN?
Multiple engineers going to the same site on different days with multiple visits? It doesn't take long before it becomes a headache just trying to figure out who needs to be where? Whether you prefer looking at a diary, a whiteboard, or a colour coded list of live jobs, Job tracker Professional provides you with three visual tools showing you where your engineers are right now, what jobs are being worked on and any free time slots that are available.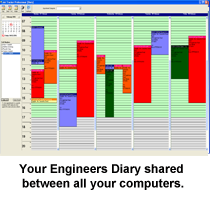 HOW MUCH PROFIT DID WE MAKE ON THAT JOB?
You've worked hard on the quotation, the job's complete, all the invoices are in and now you're trying to figure out how much you've made. Job Tracker Professional enables you to record your purchase costs, staff costs, on-site costs, just about every cost you need to consider, and at the press of a button you can get a summary of your profit for your job.

If you record this information and monitor it as your job progresses, it's a great way to instantly be alerted if you're going over budget.

If that's not enough, you can run a full profit and loss report for all your jobs over any given period of time. The report is colour coded with green, amber and red making it easy to see profitable jobs and not so profitable ones.

Job Tracker Professional is the solution that fits your ever changing and growing business needs.