More Benefits
testimonials
"To be able to work so closely with the developer and get almost instant fixes & / or amendments has been outstanding. Great company to work with"
Daniel, Diamonds In Style
" Sam and the team at Sherwin Business systems have work closely with Hebs Group to ensure they fully understand our requirements and how dynamic our business can be, the flexibility of Job Tracker Pro and Job Tracker Mobile has helped us define our work flow process, hone our efficiency and grow our service offering. Over the last few sessions with Sam and his team we have been able to collaborate and produce and extremely powerful piece of job management software with a seamless and to end process, this allows us to handle more work flow with a higher level of accuracy and reporting, without increasing our overhead thus creating organic growth for the business"
Mike Berry, Hebs Group Ltd
Job Tracker Pro is an important tool in our business. The system is easy to navigate a round. I would call it a one stop shop, as you can track everything from purchases, job status, invoicing, emails and stock control. We have commissioned bespoke modifications over the 6 years we have been using the system, from pda's, mapping and our white board. I would highly recommend this system and the support staff at SB Systems
Claire, UK Dry Risers Maintenance Ltd
JOB TRACKER PROFESSIONAL - A PERFECT SOLUTION FOR YOU
Save time & money but easily see how much money you make
Increase profitability utilising an easy to use solution to capture and report on key data relevant to your business.
Many of our customers advised that as their businesses began to grow, space was an issue for consideration.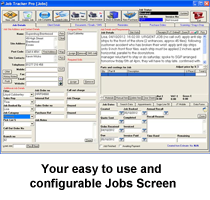 Job Tracker already offered our customers the potential to record everything related to a job or quote in one place, so taking this extra feedback into account, within Job Tracker Professional we promptly developed a drag and drop electronic filing system to now allow users to associate all relevant files and correspondence to a job or quote. In addition to this, Job Tracker Professional would now store a copy of any files produced using the template document facility and would make these files available on the job or quote for any user to view and access. This newly introduced feature was met with appreciation from customers who could immediately see the benefits that this would bring to their business. No more need to store so many paper files or suffer cumbersome dated filing cabinets taking up space in the office. They enjoyed easier sharing of information across multiple offices and sites, and found less of a need to share paper copies of files via fax or post. Another resounding success that came about through working closely with our customer and responding to their needs and key requirements.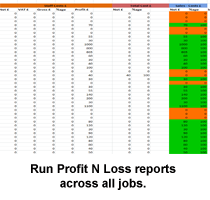 In addition to allowing you the ability to create your own personalised document templates for your own internal use, you can also create document templates such as quotes, invoices, purchase orders for specific clients.
A great benefit offered by Job Tracker Professional that has been recognised by many of our customers it that the data held within the Jobs or Estimates screens can be quickly and easily extracted and utilised for reporting purposes. There are many standard reports readily available which will cover the majority of your reporting needs. There is also a full SLA report enabling you to easily report your targets to your clients on a regular basis. As we developed and own the entire software solution we can also offer you a bespoke reporting service so you can report on anything on any format you wish.
Our story continues and new chapters are written every week. We continue to develop Job Tracker Professional and listen to your requirements. We would love the opportunity to talk through your needs with you and show how we can help you in the way that we have helped so many customers already.