More Benefits
testimonials
" Sam and the team at Sherwin Business systems have work closely with Hebs Group to ensure they fully understand our requirements and how dynamic our business can be, the flexibility of Job Tracker Pro and Job Tracker Mobile has helped us define our work flow process, hone our efficiency and grow our service offering. Over the last few sessions with Sam and his team we have been able to collaborate and produce and extremely powerful piece of job management software with a seamless and to end process, this allows us to handle more work flow with a higher level of accuracy and reporting, without increasing our overhead thus creating organic growth for the business"
Mike Berry, Hebs Group Ltd
Job Tracker Pro is an important tool in our business. The system is easy to navigate a round. I would call it a one stop shop, as you can track everything from purchases, job status, invoicing, emails and stock control. We have commissioned bespoke modifications over the 6 years we have been using the system, from pda's, mapping and our white board. I would highly recommend this system and the support staff at SB Systems
Claire, UK Dry Risers Maintenance Ltd
We use SB Systems excellent bespoke software, . The product is easy to use and can be adapted. Sam offers superb remote assistance with any technical issues that might arise and is continuously making improvements to the software. We have used this product for nearly 10 years now. I highly recommend Sam Sherwin and S B Systems
Calvin Oram, Oak Tree Mortgages
Job Tracker Professional - Why Our Customers love it
The perfect solution for any size business offering you complete control of your jobs end to end.
Capture, track, manage and progress your jobs all in one place with this scalable solution that can be used across multiple sites and is designed to grow with your business.
At a glance you can see all live quotes and jobs allowing you to manage resources appropriately and helping you schedule engineers. The reporting system available will also let you produce data to illustrate how your business is performing in other areas such as service levels and profitability.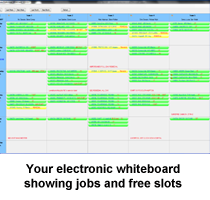 Log and track details of quotes, enjoy a higher conversion rate by utilising reports to help you manage and progress those quotes through to works requests and then quickly convert a quote to a job in just a few clicks and without the need to re-enter any of the site or job information. Job Tracker Professional will also let you easily assign materials and resources to a job, and Purchase Orders can be quickly raised and pre-populated with the appropriate job details, once again saving you time and removing duplication. Upon completion of a job you can easily generate the invoice and Job Tracker Professional will even help you speed up the payment process with its ability to directly link with Sage50.
With the ability for the end user to easily configure the system you can capture the data important to you and easily produce personalised documentation and reports to help steer your business on the path to success. You can create your own document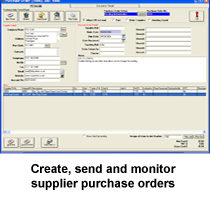 templates, designed exactly how you want them, and by utilising Job Trackers ability to automatically import the information into your documents you can quickly generate professional invoices, letters, job sheets and more. The benefits to all this is the time saved on data entry, removing the possibility of keying errors during data transfer and not to mention the saved space now there is no need to store boxes of letter headed paper.
A record of all communication is kept within Job Tracker and is immediately available to all users within your company. Every document, email, SMS, photograph, form or purchase order can be stored against its corresponding job. Outgoing Emails & SMS can be generated directly from within the job or quote, with a copy being saved and accessible for future view, and any incoming files or correspondence can be added to the record with a simple drag and drop to the built in filing system. There will be no more need for paper form filling as Job Tracker Professional can easily transfer the job or quote data to your template forms for you with just a few clicks. In addition, you can reduce the need to retain a store of paper forms and letterhead as everything can be held and generated electronically whilst your company enjoys having access from any of your systems or users.
Job Tracker Professional can save you time, save you money, reduce errors and provide you with a solution that keeps all your records easily accessible in one place.